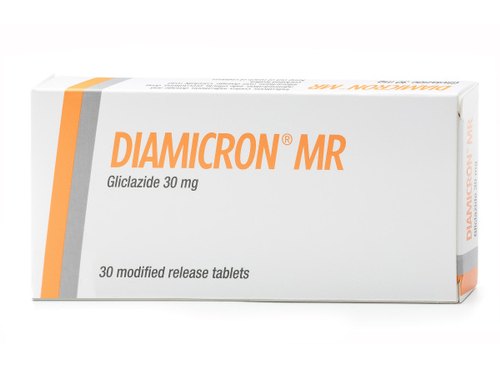 Get 10% discount on your next order. Order now to qualify.
Rx Required for all medications, up to 90 days supply.
DELIVERY & RETURNS
All Medicines are Genuine from UK & EU Pharmacies
Location
Tracked Delivery

Fastest delivery to the door within 5-7 days. Don't miss exclusive offer.

Savings

70% compared to your local US pharmacy

Return Policy

Our flexible return policy allows 14 days return
Description
Gliclazide modified release (MR) belongs to the class of medications called oral hypoglycemics. It is used for the control of blood glucose in people with type 2 diabetes. It is used when diet, exercise, and weight reduction have not been found to control blood glucose well enough without medication. Gliclazide MR increases the amount of insulin released by the pancreas and helps the body use insulin more efficiently.
This medication may be available under multiple brand names and/or in several different forms. Any specific brand name of this medication may not be available in all of the forms or approved for all of the conditions discussed here. As well, some forms of this medication may not be used for all of the conditions discussed here.
Your doctor may have suggested this medication for conditions other than those listed in these drug information articles. If you have not discussed this with your doctor or are not sure why you are taking this medication, speak to your doctor. Do not stop taking this medication without consulting your doctor.
Do not give this medication to anyone else, even if they have the same symptoms as you do. It can be harmful for people to take this medication if their doctor has not prescribed it.
Who should NOT take this medication?
Do not take gliclazide MR if you:
are allergic to gliclazide or any ingredients of the medication
are allergic to other sulfonylureas (such as glyburide) or sulfonamides (such as sulfamethoxazole)
are pregnant or breast-feeding
are taking some forms of miconazole (ask your doctor or pharmacist for details)
are experiencing physical stress such as serious infection, injury, or surgery
have severe kidney or liver disease
have type 1 diabetes
have unstable diabetes or ketoacidosis (a high amount of ketones in your urine)
What side effects are possible with this medication?
Many medications can cause side effects. A side effect is an unwanted response to a medication when it is taken in normal doses. Side effects can be mild or severe, temporary or permanent.
The side effects listed below are not experienced by everyone who takes this medication. If you are concerned about side effects, discuss the risks and benefits of this medication with your doctor.
The following side effects have been reported by at least 1% of people taking this medication. Many of these side effects can be managed, and some may go away on their own over time.
Contact your doctor if you experience these side effects and they are severe or bothersome. Your pharmacist may be able to advise you on managing side effects.
abdominal pain
back, muscle, or joint pain
constipation
diarrhea
dizziness
headache
nausea
vomiting
Although most of the side effects listed below don't happen very often, they could lead to serious problems if you do not check with your doctor or seek medical attention.
Check with your doctor as soon as possible if any of the following side effects occur:
high blood pressure
signs of anemia (low red blood cells; e.g., dizziness, pale skin, unusual tiredness or weakness, shortness of breath)
signs of clotting problems (e.g., unusual nosebleeds, bruising, blood in urine, coughing blood, bleeding gums, cuts that don't stop bleeding)
signs of depression (e.g., poor concentration, changes in weight, changes in sleep, decreased interest in activities, thoughts of suicide)
signs of liver problems (e.g., nausea, vomiting, diarrhea, loss of appetite, weight loss, yellowing of the skin or whites of the eyes, dark urine, pale stools)
skin rash or hives
swelling of the legs or unexpected weight gain
symptoms of low blood sugar (e.g., cold sweat, cool pale skin, headache, fast heartbeat, weakness, shakiness, feeling drunk, headache, slurred speech)
symptoms of low sodium levels in the blood (e.g., achy, stiff or uncoordinated muscles, confusion, tiredness, weakness)
unusual or more frequent infections (symptoms may include fever or chills, severe diarrhea, shortness of breath, prolonged dizziness, headache, stiff neck, weight loss, or listlessness)
Stop taking the medication and seek immediate medical attention if any of the following occur:
chest pain or pressure and/or shortness of breath
seizures
signs of a serious allergic reaction (e.g., abdominal cramps, difficulty breathing, nausea and vomiting, or swelling of the face and throat)
signs of a severe skin reaction such as blistering, peeling, a rash covering a large area of the body, a rash that spreads quickly, or a rash combined with fever or discomfort
unconsciousness
Some people may experience side effects other than those listed. Check with your doctor if you notice any symptom that worries you while you are taking this medication.
Product Ratings
Highest Ratings
There are no reviews yet.