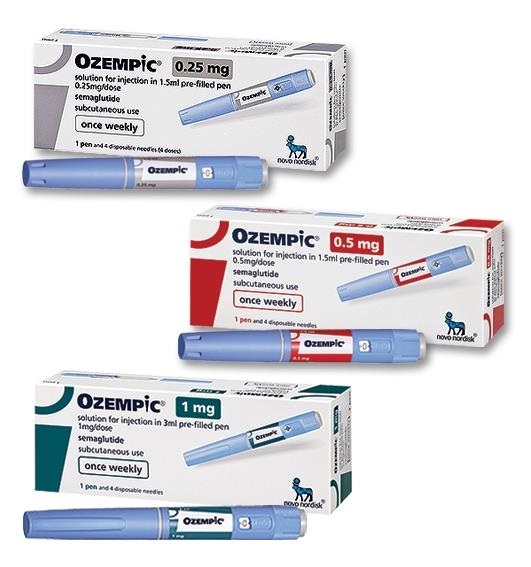 Get 10% discount on your next order. Order now to qualify.
Rx Required for all medications, up to 90 days supply.
DELIVERY & RETURNS
All Medicines are Genuine from UK & EU Pharmacies
Location
Tracked Delivery

Fastest delivery to the door within 5-7 days. Don't miss exclusive offer.

Savings

70% compared to your local US pharmacy

Return Policy

Our flexible return policy allows 14 days return
Description
Buy Ozempic Online | What is Ozempic (Semaglutide) Injection?
Buy Ozempic Online  – Semaglutide injections are prescribed to patients who suffer from Type 2 Diabetes to help them treat and manage their condition. A side effect of Semaglutide appears to be weight loss, with many users of this medication experiencing reduced appetite and a significant reduction in baseline weight since starting their treatment. Semaglutide's effectiveness as a weight-loss drug is still being tested, however, we expect to see it being released as a new form of weight loss medication within the next 5 years.
Who is Semaglutide (Ozempic) for?
At the moment, Semaglutide is only licensed for use in patients with Type 2 Diabetes who haven't been able to manage their blood glucose levels with diet and exercise alone. The first choice of medicine to treat Diabetes would usually be Metformin, however, some people are unable to take this. If oral Antidiabetics or Insulin are not enough to control your condition, then Semaglutide (Ozempic) is suitable, as it can be in conjunction with other treatments. It's important to be aware that Semaglutide isn't currently licensed for weight loss, although it's likely to be in the near future. This medication could be prescribed off-label, however only in cases where a doctor thinks you would be a suitable candidate. This is up to the discretion of each individual doctor. Currently, the Semaglutide patient information leaflet states that if you have any of the following conditions, you should either avoid the medication or speak to your own GP before using the weekly injection:
Allergic to any of the ingredients in the semaglutide injection
Type 1 diabetes
Diabetic ketoacidosis
Kidney problems
Dehydration
Pancreatitis
Hypoglycaemia
Diabetic eye disease
Pregnant
Breast feeding
In addition to these, you should also speak to your GP if you're using any other medicines which can be used to treat diabetes such as Metformin or Insulin, and if you're using blood thinners such as Warfarin.
What is the Difference Between Semaglutide and Ozempic?
Semaglutide is a pharmaceutical drug developed by the Danish company Novo Nordisk. It is used to treat and help manage Type 2 Diabetes by improving the body's ability to lower blood sugar. Chemically, Semaglutide is similar to the naturally occurring hormone glucagon-like peptide-1 (GLP-1) which has the ability to decrease blood sugar levels in a glucose-dependent manner by enhancing the secretion of insulin. This medication is primarily prescribed to sufferers of Type 2 Diabetes when the use of Metformin is unsuitable. Ozempic is simply the trade or brand name for the Type 2 Diabetes drug Semaglutide. There are no significant differences between Ozempic and Semaglutide (other than their names), as they are essentially the same drug. Both Ozempic and Semaglutide contain the same active ingredient, Semaglutide, which is a GLP-1 receptor agonist. This medication (under the name of both Semaglutide and Ozempic) has been proven to be an effective treatment for Type 2 Diabetes and has also recently been shown to be an effective weight loss treatment for people with high BMIs. However, trials are still being carried out on the drug, meaning it has not yet been approved as a form of weight loss medication.
How does Semaglutide (Ozempic) Help with Weight Loss?
Whilst the drug has been manufactured for Diabetes, the active ingredient (Semaglutide) appears to suppress patients' appetites and help them to feel more satisfied after a meal. This means that those using Semaglutide are more likely to consume fewer calories as they feel more satisfied after a meal and are therefore less likely to snack as much between meals. This reduction in appetite may also contribute to patients eating smaller portions than what they're used to. As a result, those using Semaglutide are more likely to consume fewer calories than they usually would (before taking the medication). This tends to result in patients beginning to lose weight rather than maintaining their current weight when they start taking Semaglutide.
How Effective is Semaglutide (Ozempic) for Weight Loss?
957 participants with a BMI of 30 kg/m2 or more took part in a clinical trial to test the efficacy of Semaglutide as weight loss drug. Eligible participants were adults over the age of 18 years, who did not have diabetes. The results found that in 37-65% of participants receiving Semaglutide injections, their weight was reduced by an estimated loss of 10% or more. However, in those taking the placebo, only 10% of participants had an estimated weight loss of 10% or more. This study, therefore, concluded that Semaglutide (at all doses) results in clinically relevant weight loss compared to that of the placebo.
Can I use Semaglutide (Ozempic) for Weight Loss Now?
Semaglutide is not currently licensed for weight loss. It is only currently recommended for use by people with Type 2 Diabetes. However, the drug is likely to be approved as a weight loss drug in the near future and tends to be well-tolerated by people who do not have Type 2 Diabetes, with no new safety concerns arising in recent trials. It has been known for this medication to be prescribed off-label, however only in cases where the doctor believes that the patient is a suitable candidate for the drug and no contradictions is present. This decision is entirely up to the discretion of each individual doctor.
Product Ratings
Highest Ratings
There are no reviews yet.